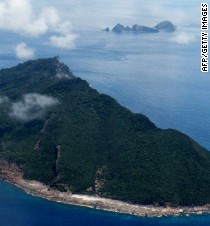 (CNN)Tokyo has protested to Beijing after a Chinese frigate entered waters near a disputed island chain in the East China Sea, according to a Japanese Defense Ministry spokesman.
A Japanese Navy destroyer detected the Chinese ship as it entered the contiguous zone — an area stretching 24 nautical miles out from the edge of territorial waters — around the Senkaku, also known as Diaoyu, islands, at 12.50 a.m. local time Thursday (12.50 p.m. ET Wednesday), Yoshitomo Morii told CNN. This was the first time a Chinese frigate has entered the contiguous zone, he added.
According to Japanese officials, Foreign Minister Vice Minister Akitaka Saeki summoned China's ambassador, Chen Yonghua, to lodge a protest "with serious concern," and demand that the Chinese military ship leave the area immediately.
Morii said the Chinese ship left the area at 3:05 a.m., after repeated calls for it to do so by the Japanese vessel.
Russian military ships were also detected in the contiguous zone between 9:50 p.m. Wednesday and 3:05 a.m. Thursday local time, but further details were not immediately available, Morii said.
According to Japanese state broadcaster NHK, citing senior Japanese officials, the Chinese ship may have been reacting to the Russian vessel's movement.
Both China and Japan claim ownership of the Senkaku chain, and tensions have flared numerous times in recent years.
Japan also has an ADIZ over the islands, which it administers. While the Senkakus are uninhabited, their ownership would allow for exclusive oil, mineral and fishing rights in the surrounding waters.
Read more: http://www.cnn.com/2016/06/08/asia/japan-china-diaoyu-senkaku/index.html