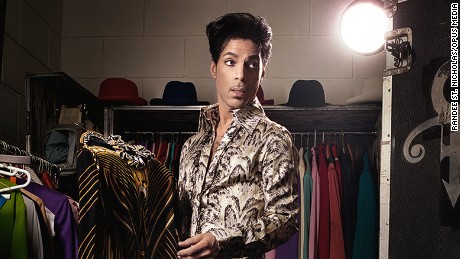 (CNN)Karl Fowler and Zenon Texeira can clearly remember an evening years ago when they were dining with superstar Prince and one of his assistants in Los Angeles.
It was the middle of the night, and after dessert the singer asked if they would indulge him a bit.
"He said that he never had the opportunity to have conversations with people anymore, and that's why he was enjoying this particular dinner," Texeira said.
As Fowler tells it, Prince excused himself before returning with four, small leather books that turned out to be Jehovah's Witness Bibles.
"For the next hour, we had Bible study with Prince," said Fowler, who along with Texeira received the holy books as gifts from the singer. "We saw a very kind, funny man in that first meeting with Prince."
It is those types of memories the pair now cherish following the music legend's death in April.
Fowler is chief executive of the publishing company Opus, and Texeira is its creative director. The pair worked closely with the late singer to produce
"The Official Prince Opus,"
a limited-edition book tied to his 2007 concert series in which he played 21 nights at London's O
2
arena.
The project includes photos, poetry and lyrics written by Prince and an iPod that contains his music.
Fowler said the star approached his company after admiring a book they had done about the NFL. Fowler said he and Texeira, being massive Prince fans, were thrilled when the singer invited them to come to Los Angeles to meet with him.
"He called us to put the project together and in short we jumped at the chance," Fowler said. "We then spent the next few months discussing and working with him."
Prince was involved in all aspects, Texeira said, from conception of the idea to art directing. Prince loved the scale of the past projects the company had done, he said.
"He used the word 'panoramic,' " Texeira said. "He was thinking on a very cinematic scale."
Prince provided them with a 45-minute behind-the-scenes video and brought to them an idea he had for the photo essay.
The pictures, which were shot by
famed photographer Randee St. Nicholas
, told the fantasy story of the singer living at the Dorchester Hotel in central London and floating between his residency there and his concerts at the O
2
.
As Prince leaves the room, he passes an attractive maid who enjoys herself in his hotel room while he is away in Prague, Czech Republic. The story ends as Prince returns to his hotel and finds the maid, leaving the reader wondering what happens next.
"He wanted it to be, as he explained to us, a story within a story," Fowler said. "We thought it was quite endearing and creative."
What followed their first meeting was more meetings — always held after midnight — which could include everything from pancakes and ice cream to jam sessions, they said. Prince once played all of his hits for more than two hours because he knew they were fans.
The three men developed a friendship, so much so that Fowler said they did not want the project to end.
Fowler said that in the spring of 2015, they had a conversation with Prince in which he reminded them that he was interested in doing another Opus more focused on his career.
"He wanted to do a retrospective," Fowler said. "He said it was all about timing, and there were still some things he wanted to do first. When the news came (of his death), it was just so sad."
The knowledge that Prince wanted to work with them again and also took positive memories away from the experience has comforted them, they said.
"We know that and cherish that," Texeira said.
source: http://edition.cnn.com/