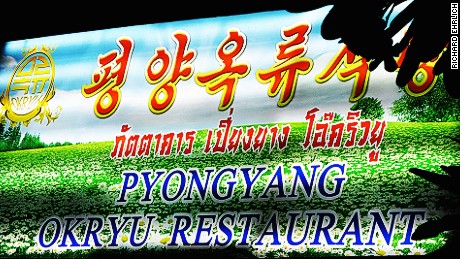 Bangkok (CNN)In Bangkok, there's a restaurant where North Korean women strip diners of their freedom (to take photographs) and delicately pull out their bones.
The same women cheerfully scissor noodles at tables, but seem subject to sudden mood swings.
Meanwhile, armed troops and gleeful singers perform in the background, navigating the fine line between entertainment and brainwashing.
This is the Pyongyang Okryu Restaurant, one of a chain of eateries operated around the world by the North Korean regime that offer a weird glimpse of life inside the hermetic Stalinist nation.
Upon entering the restaurant, polka dot clad waitresses greet customers with shy smiles and tender hand waves.
However, as observed during a recent visit, they may suddenly appear panic-stricken, drained of emotions or severely displeased when guests stray from the menu.
The food?
Diners can enjoy a tasty but somewhat oily and salty meal at a plastic-covered table amid the restaurant's permanent Christmas decorations.
"No photos!"
Those aware of life in North Korea may feel like they've passed through an invisible membrane upon entering this restaurant, located on Bangkok's trendy, upmarket Ekamai Road.
That's because this modern clean eatery offers a window of the tense and rarefied life of those who exist near the pampered top of North Korea's brutal hierarchy.
For example, while most citizens in their northeast Asian nation reportedly suffer in an Orwellian dystopia, here inside Pyongyang Okryu Restaurant the workers are not groveling in poverty or huddling under rags.
Instead, their problem appears to be how not to die of boredom while a big digital screen blares DVDs of North Koreans singing robust patriotic songs amid troops marching, weapons rolling in parades, and regime officials applauding.
During our visit, three waitresses could be seen near the front door watching the DVDs, slowly swaying and softly singing the lyrics.
Below the digital screen a tiny stage for the staff's live song-and-dance performances.
Alas, it was empty during the recent mid-week evening when this writer — posing as a tourist — was the only customer in the 100-seat restaurant, which includes an outdoor eating area.
The staff speaks modestly good English. But when asked about the restaurant or North Korea, they quickly replied with a chorus of, "I don't know."
Photographing the food was OK for a while, but that freedom was abruptly withdrawn for no reason, emphasized by a strident, "No photos!"
Writing on a blank sheet of paper also raised the alarm.
"What are you doing? What are you doing?" a waitress demanded, requiring a full explanation.
So, what's on the menu?
There's the 150 baht ($4.25) fried mackerel and scallions, wrapped in aluminum foil, graciously deboned by a waitress at your table.
Even better is the 350 baht "Pyongyang tray cold noodle."
Large enough for two people, it includes slices of chicken, cucumber, a hard-boiled egg, red chilies, vinegar and mustard — all draping spaghetti-like rice noodles, which a waitress will cut with big pink scissors.
Mung Bean Jijim comes in the form of four flat, thin, green, circular pancakes wet with oil, adorned with parsley and tasting like potatoes.
Beer and other drinks are also available along with fish, pork, beef, chicken, vegetable, noodle and soup dishes.
Lunch specials are 99 baht a plate and include dumplings, noodles, Kimchi Udong, Bibimbab Haeju and fried rice with chicken.
Several miles away, a flashier Pyongyang A Ri Rang Restaurant on soi (alley) 26 of Bangkok's Sukhumvit Road also offers food, but with the added fun of karaoke, a live floor show and tours of North Korea.
However, during a recent visit, a sign said it was closed until June 20 for "renovations."
The real K-rock #koreangirlband #northkorea #rockband #girlband #restaurant
Pyongyang's global restaurant network
Outside of Bangkok, Pyongyang's regime also operates restaurants in Malaysia, Laos, Cambodia, Nepal and across China, plus the Middle East and Africa.
"Most of the money earned goes to the regime," said Washington-based Jim Kelman, a program officer at Meridian International Center, a private non-profit agency involved in global leadership and cultural diplomacy who has worked with people born in North Korea.
He also echoes wider accusations that the restaurants are part of North Korean operations to launder illegal or counterfeit funds.
"The restaurants are most popular in places where South Koreans travel to work, vacation or otherwise gather in significant numbers," Kelman added.
"They are also popular among traveling Chinese. With the advent of stronger international financial sanctions, there are fewer ways that North Korea can earn hard currency."
The restaurants are part of "a much larger outflow of North Korean workers — as miners in Africa, laborers in the Middle East, and even nurses in those countries," Kelman said.
Pyongyang Okryu Restaurant, 72 Sukhumvit 63 (Ekamai), between Ekamai soi 4 and 6; +66 (0)2 020 0220
http://www.cnn.com/2016/06/07/foodanddrink/north-korea-bangkok-restaurants/index.html